← Previous Treviso Bed
Next Prestige Classic Bed →
← →
You may also press keyboard arrows
or click at page corners for navigation
The back-lighted glass shelves give a hint of light, in perfect equilibrium with the style of the collection. All materials are carefully selected to ensure the best quality. The generous thickness enhances the prominence of the elements.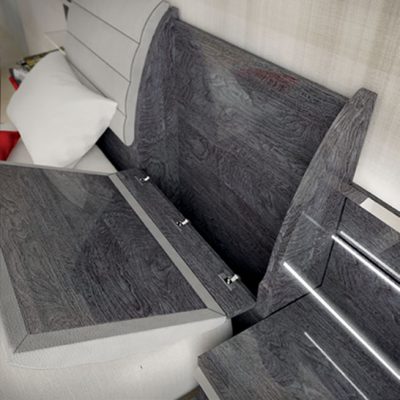 The upholstered headboard gives sophistication to the sleeping room. The hidden storage is conceived to grant excellent handiness and comfort.
Elite Bed
20% OFF!
Colors: Grey/Silver
Materials: Fabric, Wood-based panel, Stainless Steel
Finishes: High Gloss Lacquer
Item Description
This platform bedroom set will create a visual fantasy in your bedroom using traditional shapes in the modern interpretation.
Headboard: Microfiber
Inventory is updated on 08/10/2022
The inventory quantities are subject to change, please call for more updated information
Estimated Arrival Dates
| Line Desc for Sales | Qty Ordered | Arrival Date |
| --- | --- | --- |
| @OOCU7762293Wooden Slats Frame King Size, folded in 2 parts with adjustable 8 legs 193x202 | 294.00 | 8/29/22 |